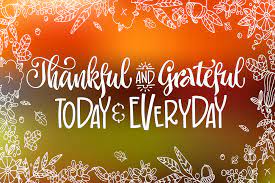 Thanksgiving is a beautiful time of year to count our blessings, but we do not need to wait for the fall to be thankful. As the apostle Paul wrote to the Thessalonians, "give thanks in all circumstances, for this is God's will for you in Christ Jesus" (1 Thessalonians 5:18).
Often, we push back on that thought: "in all circumstances." Really? Have you ever caught yourself saying: "I will be so thankful when this season is over;" or "I will be so thankful when the sun comes out?" We tend to want to get out of life's "storms" to then give thanks. The challenge for us can be thankfulness shown while we are in the valley, rather than waiting for the mountain top.
It is no surprise that giving thanks is God's will for us. Researchers have noted the benefits of gratitude for generations. According to one study, taking five minutes every day to write down what we are grateful for can actually increase long-term happiness by ten percent.
Gratitude has also long been known to have a positive effect on the physical body. A two-week gratitude experiment reduced blood pressure and improved sleep quality which improves overall health. Your body will literally thank you for being grateful.
So, in this season of Thanksgiving, we are reminded to nurture the gratitude habit. We incorporate gratitude into our everyday routine. It can be as simple as counting our blessings or taking a moment to simply say "thanks" for this specific moment in time–no matter if the sun is shining or the storms are raging. The time for thanksgiving is always now, it never has to wait. So, just say "thanks," you will be grateful you did.
At Harbor House, we will give thanks continuously.
We give thanks for those who live here and for those who make this place possible by bringing their time, talents, and treasures to support this ministry—the people who journey alongside us through the peaks and the valleys of life.
We are thankful for God's provision amid hardship. Even if it seems our challenges may not be overcome on this side of heaven, we give thanks for the growing and stretching each challenge brings as we mature in knowledge and strength and are pulled nearer to our Father who watches over us.
We give thanks for taken-for-granted things like the breath in our lungs, the blueness of the sky, a happy beat in music, peace in the night, every day, and each day's good things.
______________
Emmons, R. A., & McCullough, M. E. (2003). Counting blessings versus burdens: An experimental investigation of gratitude and subjective well-being in daily life. Journal of Personality and Social Psychology, 84, 377-389.
Jackowska, M., Brown, J., Ronaldson, A., & Steptoe, A. (2016). The impact of a brief gratitude intervention on subjective well-being, biology and sleep. Journal of Health Psychology, 21, 2207-2217.